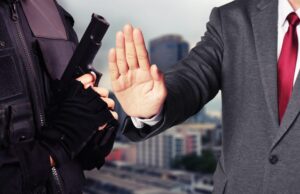 Ronald Noble, founder of RKN Global, emphasizes how important it is for businesses to learn how to act in the event of a terrorist attack. Although there is no one proper formula for a business and its employees to respond to terror attacks, steps can be taken to minimize fatalities and injuries.
There were approximately 1,149 terror attacks targeting businesses throughout the globe in 2015.1 As a result, governments throughout the world are on high alert, as terrorist organizations continue in their attempts to cause harm.
What are terrorist attacks? 
Not all terror attacks are the same, making it essential for business owners to be aware of the wide range of attacks that could occur.2 Terror attacks have been defined as involving:
Using mass destruction to encourage governments or civilians to behave in a specific way
While some acts of terrorism may involve hacking computer systems, and other uses of force, this article focuses on the attacks which affect the physical well-being of businesses' employees.
Planning your security/Performing a risk assessment
Reducing the risk of harm to human life in the event of a terror attack should begin with a risk assessment. A risk assessment helps highlight potential vulnerabilities within a business, and encourages changes in the response plan, including the evacuation procedure, if necessary.
When performing a risk assessment, each business should consider:
The current national level of threat

Whether the business, employees or the building may prove to be attractive to terrorists

If there is an association with high profile organizations or individuals that could be deemed a target to terrorist cells

If there are any nearby buildings that are a potential target for terrorists
A risk assessment should be carried out as soon as possible, particularly if the national level of threat is high.
When a terrorist attack occurs
When a terrorist attack occurs, it is extremely important to follow the company's evacuation plan, if it has one.   If your business does not have an evacuation plan for a terror attack, consider your safety and that of those around you. Try to evacuate the premises immediately, and move as far away from the building and any crowds or parked cars as you can.
In some cases, it may not be possible to evacuate immediately.  However, there are steps that can be taken to minimize harm:
RUN
Escape if possible

Try to escape via the safest route

Encourage others to join you

Leave your personal possessions behind
HIDE
If you are unable to run, find a place to hide

Ensure you are protected from gunfire, preferably in an area that contains heavily reinforced walls, or brickwork

Hide so you are unable to see the attacker; if you can see the attacker he or she may also be able to see you

Try not to get trapped in your hiding place; always aim to have an escape route

Turn your cell phone off–don't leave it on vibrate as the attacker may hear it if someone tries to contact you

If you are in a room, lock yourself in if possible, and build a barricade using tables, chairs, and heavy office equipment. .4

Move away from any doors and windows to avoid getting hit by bullets and shrapnel
TELL
Call the police as soon as it is safe to do so

Tell the police your location, where you think the attackers are, and where you last saw them. Informing the police as to where you last saw the attackers may help them determine where they are likely to move to next

Describe the attacker(s) to the best of your ability. Tell police how many of attackers there are, how they are dressed, and what weapons they are using. Every little piece of information can help.

The police will also want to know as much about the building as possible, where the exits are, and if there are any hostages and casualties

Prevent other people from entering the building if it is safe to do so5
Contacting your loved ones
Only attempt to contact your loved ones if it is safe to do so. If it is likely that they may try to enter the building in an attempt to find you, you should tell them to stay away. If and when you are able to leave the building to safety, then contact your loved ones and explain that you are safe. Let others use your phone to contact their loved ones if they need it.
Regularly practice the evacuation procedure
Practicing the evacuation procedure can help increase your chances of survival in the event of a terrorist attack.
RKN Global's founder, Ronald K. Noble, places great emphasis on the importance of preparation.  If business owners and their employees know how to act in the event of a terrorist attack, they can help minimize the risk of casualties.