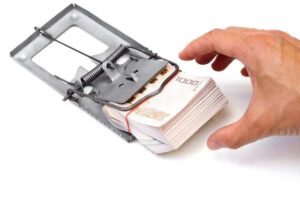 Between 2014 and 2015, there were 2.27 million higher education students in the UK1, with an approximate 60% of students being exposed to advertisements for scam advertisements for student debt relief2. Although students in higher education might be expected to be more savvy than the average because of their additional education, this is not necessarily true and they nevertheless often fall prey. Falling victim to a scam could result in students' losing money that would otherwise be used to pay off their loans.
RKN Global's founder, Ronald K. Noble, urges students to be aware of fraud
, and the methods fraudsters may use to trick students into paying them instead of the appropriate financial institution.
Student loan debts have skyrocketed, and in the United States for example, 40 million Americans were jointly responsible for a $1.2 trillion outstanding debt in recent years.3 With so much money owed to financial institutions, there is great incentive for fraud.
How people commit student loan fraud
Approximately 65% of a group of 6,300 student loan borrowers claimed to have seen advertisements for debt relief scams. 2 Such scams often claim to help the students lower their monthly payments. In spite of the advertisements' insistence that they have helped a lot of people reduce their monthly payments, in reality they often don't deliver on their promises. Offering a "one-size-fits-all" approach, many companies do not ask for details of individuals' financial situations, but rather claim to help everyone with their loans.3
An additional example of student loan fraud involved scam artists asking borrowers to front significant sums of money in exchange for debt relief  services, or falsely claiming that they may be able to obtain loan forgiveness for the student loans under programs that were endorsed by the President and his administration.3
Emails asking for personal information
Some fraudulent approaches take the form of emails that purport to be from a school's student finance office.  In England, for example, scammers have been known to ask for personal information claiming that if the students don't provide personal information, they might lose their financial aid payment.4  The links and contact information contain within the email will not correspond with the contact details the financial institution uses. Students should also be aware that financial institutions will not request personal details via email, but will instead conduct such communications by mail.
Companies involved in this type of scam may also claim to:
Remove or prevent tax liens

Remove a default status from a debt

Reduce the monthly payment made to the financial institution in question
In reality, only the creditor can stop wage garnishments.
How to protect yourself from student loan fraud
Students should never click on any links found in emails that appear to be sent by financial institutions.  If you receive such an email, report it to the institution in question, using contact details that you get from the institution directly, not from the email.
Advertisements made by companies claiming that they can eliminate student debt should be treated with caution. Students must repay their student loans except under the most unusual circumstances, such as:
The closure of the school

Loans that were issued fraudulently

The death of the student

Permanent disability

5
Ronald Noble, founder of RKN Global emphasizes that in general, if something sounds too good to be true, it probably is.

 

Quick fixes for student loan debt—or for any problem, for that matter—should be treated with great suspicion.
What to do if you think you are a victim
Students who think they may be victims of student loan fraud should contact police and make sure they keep careful records of how much money they have paid the scammers. Bank and credit card statements might serve as important pieces of evidence.
It is important to let the bank know about the possible fraud, as the bank may be able to take steps to prevent fraudsters from accessing personal accounts.