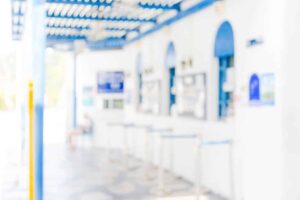 British husband and wife team Michael Mayiger and Michelle Meiger seem to have chosen as their family business the path less travelled:  Ticket fraud.
While it is true that everything that can be bought can be resold, and that this regular, everyday type of commercial transaction is accepted everywhere in the world in numerous industries, there are nevertheless some areas in which re-selling is regulated or prohibited for various reasons.   Ticket resale, the area of choice of the Mayiger/Meiger team, is one of those areas.
RKN Global founder, Ronald K. Noble, observes that one of the reasons that ticket resale is so heavily regulated and often prohibited is because of the great potential it holds for abuse and fraud.
Ticket Fraud often involves the selling of tickets for a popular event that has sold out, or the sale of tickets that are not yet available for sale.
2

 
Purchasers who fall victim to these scams usually don't receive any tickets, no matter how much they have paid for them.

 

The opportunity to offer tickets to legitimate music, cultural or sporting events for seats that are not available is a formula that fraudsters often find irresistible:

 

Trick the buyer into paying for nothing.
Approximately £5.2 million was lost in the UK in 2015 alone due to online ticket scams, with the fraudsters behind them cashing in on the public's wish to attend sporting and musical events.1 Although many people are aware that scam emails and websites exist, there is a lack of knowledge about ticketing scams, which often leave many people disappointed, their bank account balance lower with nothing to show for it.
Those looking for tickets to a recent performance of Ed Sheeran, a popular English pop and folk singer, had a variety of options, including resellers such as Seatwave, a subsidiary of the trusted institution, Ticketmaster.   Mayiger and a company he owned were listed as trusted, vetted sellers by Ticketmaster, and their tickets for resale, often at multiple times their face value and totaling £15,000, were listed on the site. 3,4
That stamp of trust seems to be undermined by the details of Mayiger and Meiger's past.  In one instance, almost 200 purchasers of tickets to a Black Sabbath concert in London were turned away at the door because Mayiger had sold them non-existent tickets—tickets for seats that were already sold.6  Ticketmaster's claims to have vetted Mayiger and Meiger seem even less convincing in light of the fact that the couple had been convicted in 2012 for a £2 million fraud in which they used false identities to get numerous memberships to the football Premier League, which they used to obtain tickets and resell them illegally.
The Mayiger/Meiger story should give any ticket purchaser pause—they were able to commit their fraud through Ticketmaster, an ostensibly well-regarded and transparent ticket selling site.   Many other sites, however, offer little to no transparency at all, meaning that even Ticketmaster's safeguards, although inadequate in this case, are not in place.  This leaves the public open and exposed to getting defrauded when they purchase tickets.
Ronald Noble, founder of RKN Global, advises the use of simple common sense when making purchases online.  With the ever-increasing number of transactions we conduct online, people have a tendency to become careless.  Employing simple, common sense ideas—like purchasing only from well-known, reputable sellers—is a good starting point for protecting ourselves against this and other types of fraud.
How to protect yourself from ticketing scams
Knowing how to protect yourself from ticketing scams can mean the difference between enjoying an event and handing over your cash to a scammer. Some of the ways you can protect yourself include:
Only purchasing tickets from a box office, the event agent, or promoter.

Using a credit card to make payments, as credit card companies may offer payment protection.

Being on the lookout for negative website reviews; the reviews could give you an indication as to how legitimate and trustworthy the site and seller is.

10

Realizing that unsolicited emails and letters from ticket sellers are likely to be fraudulent.

Checking that a seller's website is secure by looking for a padlock next to the site's URL.

Checking that the web address starts with 'https;//'.

11

Only purchasing tickets that are genuinely for sale and are for an event that is actually taking place.
What to do if you are scammed
Ticket fraud is not a widely known crime; unfortunately, this means that people are not as aware of it and may be more susceptible.
If you have fallen victim to a ticketing scam, you should:
Give the police a copy of any letters and emails that you have received from the fraudsters.

Give the police as much information as you can about the fraudsters' methods.

If you spoke to the fraudsters, describe their demeanor, accents, and names if you can.
RKN Global's founder, Ronald K. Noble, urges buyers to purchase only from known, reputable sellers whom the buyer has contacted independently, and not to respond to unsolicited approaches either in person or online.
Knowing how to spot a fake ticketing scam can mean the difference between being allowed into a venue and being turned away at the door. If you are contacted out of the blue by an alleged ticket seller, or you think a website might be selling fake tickets, look for a different means of purchasing the tickets. Protect yourself and your money, and give your business to those who make an honest living out of selling tickets to different events.