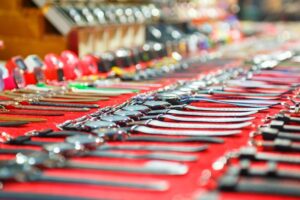 A recent counterfeiting case from a city north of London is illustrative of a certain type of illegal activity that goes on every day.  A merchant from the City of Peterborough  recently pled guilty to selling fake designer products at a weekly boot sale held in the city.1 Mohammed Imran Malik has been charged under the Trade Marks Act 1994 for the alleged sale of counterfeit, shoes, clothes and perfume.2
Trading standards officers seized £12,000 worth of counterfeit items in the operation that led to Malik's arrest, and later, to his confession..3
Ronald Noble, founder of RKN Global, accentuates the danger and harm in "non-violent" crimes like counterfeiting
.

 
Aside from the economic harm which itself affects companies' well-being and the jobs and lives of their employees, counterfeiting benefits criminals and even terrorist organizations by providing them with an income stream that funds other, more violent activities.
What are counterfeit goods?
Counterfeit goods are products that are sold under the pretense that they are a specific brand, even though they are really not.4  These goods may be manufactured to look exactly like, or very similar to, well-known brands.  The sellers of counterfeits piggyback off the development and marketing of the original brand, enabling them to make a large profit, even as buyers often feel they are getting a bargain.5 Counterfeit goods can come in all shapes and sizes, ranging from DVDs, CDs, and computer games, to clothes, shoes and handbags.    They are sometimes sold at car boot sales, yard sales, and door to door; at times they are available online or in bars.6
The Peterborough case is not unique. Another case that came to light this month involved the corruption of customs officials, who face charges for allowing counterfeit products from China to be sold on the European black market.7 The European anti-fraud office has asserted that the failure of custom officials to crack down on the distribution of illegal products has cost European countries £2.7 billion combined.8
How to spot counterfeit goods
While most merchants sell goods that are not fake, it is sometimes easy to spot fake goods if you know the signs. When buying goods, look out for:
Labels that have spelling mistakes

Logos that aren't quite right

Poor quality products

Products sold in bars and pubs, or door to door
Spotting designer products that are sold at a discount may make you think you're getting a good deal, but legitimate designer goods are rarely discounted, meaning you may not be getting the deal you think.9
Why it's good to say "no" to counterfeit goods
Buying counterfeit goods may save you a lot of money on clothes, shoes, and perfumes etc., but paying for these goods could fund organized crime.10 Other reasons why counterfeit goods should be avoided include:
The quality of the goods – Counterfeit goods are unlikely to be manufactured to the same standard as their genuine counterparts. This could potentially mean that perfumes have not been tested for safety, electrical goods may not be wired properly, and clothes may not be stitched together very well.
You'll be breaking the law – Knowingly buying counterfeit goods is illegal.11
The economy will be affected – Buying counterfeit goods can have a negative impact on the economy. When you buy fake products, you take the business away from legitimate manufacturers and sellers.12 This results in legitimate businesses making less money, and in some cases the businesses may even have to close down, and employees may lose their jobs.
If you have purchased a counterfeit product
If you have purchased a product that you thought was genuine, but now believe that it could be counterfeit, you should contact the police or other relevant government authority in your country. You may be asked to describe what you purchased, and where you purchased it from, who the sellers were, and what products they were selling. Your actions could result in goods being seized, and the sellers of those goods being prosecuted.
Ultimately it's up to us, the consumers, to turn our backs on counterfeit goods, and instead opt to buy genuine products that are safe, legal, and fair to the manufacturer.
RKN Global's founder, Ronald K. Noble, urges consumers to avoid counterfeit goods.  Counterfeiting is not a harmless crime.