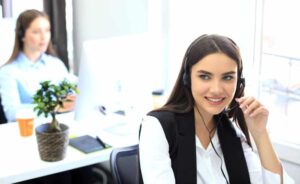 Cases of call center scams appear to be on the increase as fraudsters look for new ways to make money. The typical scam involves fraudsters, often from overseas, impersonating government officials and calling victims in the United States or other countries in order to defraud them and demand payment.
It is not just a matter of cold-calling, however. Fraudsters often target authentic call centers in a bid to gain access to their customers' personal data. They can use the data to impersonate officials or legitimate call center staff in order to make money. Victims willingly hand over money to the caller they think is acting on behalf of the government or the company in question, not realizing they're actually giving money to a criminal.
Alarmingly, call center fraud has increased by as much as 45% since 2013, with an estimated one in every 2,000 calls that purport to come from call centers believed to be fraudulent.   86.2 million scam-related calls are made in the United States each month.
Global companies typically rely on call center staff to talk to their customers and deal with any complaints or queries they may have. Some companies, in a bid to reduce call center scams, have resorted to keeping their call centers in the same country that they do business in, but this does not seem to have resolved the issue.
RKN Global's founder, Ronald K. Noble, warns against making payments to someone whose identity is unverified.

 

If you are contacted by someone claiming to be from a call center, you should verify their identity before you consider making a payment. If you are in any doubt about the callers' authenticity, hang up, and use another phone to call the company back on the number they have provided you with in previous communications.
Taking steps to protect yourself from call center scams can help to reduce the likelihood that you will fall victim. Ignoring unknown calls is the first step, if the caller does not leave a message, block the number, or save the number as 'Spam' on your phone. If the caller rings back on another occasion, your phone will display the word 'Spam', and you will know not to pick up.
Many people have lost money because they have given out personal information over the telephone. Unless you can completely trust the caller, you should never give out your bank details, credit card information, or any other personal information, (such as your social security number), that fraudsters could use to obtain cash and steal your identity.
Recipients of fraudulent telephone calls should be aware that government agencies like the U.S.  Immigration Service and the IRS will not ask for payments to be made via store cards or wire transfers.
Ronald Noble, founder of RKN Global, notes that government agencies will not make phone calls asking for money. Calls such as these should be reported to local authorities as soon as possible.
The same is true for other financial institutions—they will not ask for personal information over the telephone.  Keeping your personal details safe is the best way to ensure the information and your money do not fall into the wrong hands.