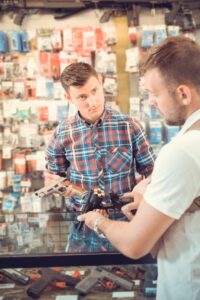 The dark web has been mentioned in the news quite frequently, particularly in reference to the US Government doing what it can to shut some parts of it down. The dark web contains sites and content that require access via specific software and certain configurations so that it can be accessed.  Often, a browser known as 'Tor" is used for accessing the dark web.
RKN Global's founder, Ronald K. Noble, observes that the dark web is often used by criminals to sell and buy illegal drugs and weapons and even engage in other illegal activities such as human trafficking.
The software used to access the dark web provides extra security when browsing, while also offering a form of anonymity by passing messages through a vast network of relays that have been encrypted.
In recent years, criminals have been caught buying and selling guns on the dark web. Guns that have been purchased using this secretive black market have all too often been used to commit crimes. One case involving the purchasing of guns on the dark web became apparent when a former police officer from Northern Ireland (PSNI) was found guilty of trying to buy a gun online.
Caught in an undercover police sting, the 31-year old former PSNI officer's address was given to Belfast police, whereupon it was found that the former officer was also found to be possessing multiple firearms, ammunition, and an assortment of drugs. The former officer was caught when undercover police officers convinced him that they had a gun for sale. After meeting one of the undercover police officers in Belfast, he was arrested moments after he handed over money. It was then found that he had been using the Tor browser—also known as the onion router—to access the dark web.
Likely to be facing a substantial sentence, the former officer was also found guilty of perverting the course of justice by crashing a car in 2014 and setting it on fire.