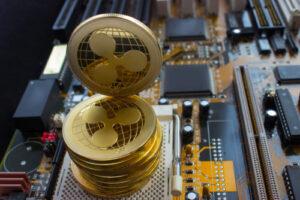 Ripple, a cryptocurrency which was released in 2012, was co-founded by Jed McCaleb and Chris Larsen. Ripple is not just a cryptocurrency though; it is a digital payment network for  financial transactions as well to enable the seamless transfer of money in different forms, including Bitcoin, Yen, USD, and litecoin. Bitcoin may still be the leader of cryptocurrencies, especially when it comes to press coverage and price rises, but Ripple is rising steadily and may soon be one of the biggest competitors of BTC.
How does Ripple work?
When two people want to make a transaction, Ripple's Gateway network bridges the gap between them. Gateway serves as the credit intermediary which not only receives currencies from public addresses but also sends them over the Ripple network. XRP, the Ripple cryptocurrency, serves as the bridge currency for other currencies, including both crypto and fiat.
Ripple could overthrow Ethereum: Experts
According to cryptocurrency experts who were brought together by Finder.com, XRP could overtake ETH (Ethereum) to become the second largest artificial currency by the end of 2018. They said bitcoin will stay as the king of the hill with a market capitalization of $597 billion, but Ripple could well be second, with a market cap of $460 billion.
Around the time of this writing, however, Bitcoin has a market cap of $1.8 billion, as compared to Ethereum's $84 billion and Ripple's $34 billion market caps. The artificial currency has already begun attracting the attention of popular financial institutions and partnered with the big companies like Santander, American Express and MoneyGram.
Of course, the future is unknown, and Ripple, like any cryptocurrency, is subject to the volatility and uncertainty that has characterized the industry.