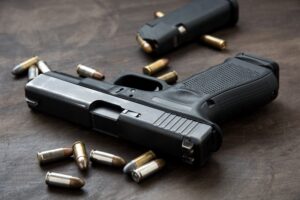 AlphaBay and Hansa, two large websites on the dark web which enable the purchase of guns, drugs and other illegal things, were recently shut down in a move made by the U.S. Department of Justice. In July 2017, the Justice Department closed the websites down, with the US attorney general Jeff Sessions stating that he was aware of several Americans who overdosed on drugs that were purchased via these websites. This highlighted just some of the dangers that are posed when purchasing items from websites such as these.
The alleged founder of AlphaBay, Alexandre Cazes, was arrested not long after the site was taken offline. His net worth is believed to be a staggering $23 million. It was also alleged that soon after his arrest, Cazes took his life while being held in custody in Thailand.
RKN Global's founder, Ronald K. Noble, notes that although the government was successful in taking these websites down, potential buyers may simply move to another site, purchasing guns and drugs from there instead.
According to Europol, AlphaBay listed more than 250,000 items for sale; it is likely that the bust would lead to many new police investigations taking place throughout Europe.
This is not the first time sites on the dark web have been shut down by authorities. 'Silk Road' was taken down in 2013, but at the time it only had 14,000 listings—a number dwarfed by AlphaBay's 250,000 listings.
The University of Manchester and Rand Europe carried out a study that found 811 weapons listings on 12 dark web marketplaces, with more than 50% of the weapons being sent to the UK from the United States. Concerns were magnified when a gun purchased on the dark web was used in a terrorist attack that took place in Munich in 2016.
Acting FBI Director Andrew McCabe, Attorney General Jeff Sessions, and Europol Executive Director Robert Mark Wainwright claimed that shutting these websites down was an important message to criminals that they cannot hide and avoid prosecution.
The battle against illegal dark web marketplaces is an important one–Selling dangerous opioids, weapons and toxic chemicals, dark web marketplaces pose a threat to national and international security, giving criminals everywhere the chance to purchase weapons and drugs with ease and anonymity.