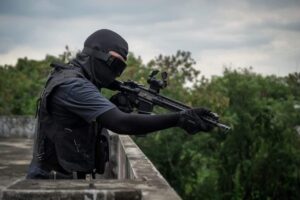 A trio of men who called themselves the 'Three Musketeers' have been found guilty of plotting a terrorist attack, similar to the attack upon Lee Rigby, a U.K. solider who was murdered in uniform in May 2013 by a terrorist.
The trio from the West Midlands were alleged to have been plotting to target the military and police; however, the suspects claim that incriminating evidence was planted by an undercover police officer. The trio, who denied the charges, were likely to have been planning a similar attack to the lorry attack that took place in Nice, France, in addition to using a partially-made pipe bomb that when completed could have killed or injured scores of innocent people.
Ronald Noble, founder of RKN Global, applauds the work carried out by British authorities to detect the actions carried out by the trio. Many lives have undoubtedly been saved as a result of the brave actions and diligent work carried out by the British authorities.
The 'Three Musketeers' were caught in August 2016 when MI5 attempted to bug one of their vehicles, only to find a meat cleaver and a pipe bomb hidden in a bag found in the car. The blade of the meat cleaver worryingly had the word 'Kafir', which means 'Non-believer' in Arabic, scratched into it.
One member of the gang who joined at a later date was found to be storing a sword, an imitation gun, and industrial tape in his car.
Two members of the original three had been previously jailed for offenses that relate to terrorism, after they had pleaded guilty to making attempts in 2011 to join an Al-Qaeda training camp in Pakistan.
After unanimously being found guilty of all the charges, the three were sent to prison for at least 20 years, while the newest member of the gang was given 15 years for his smaller role in the plot.
Detective Chief Superintendent Matt Ward, the head of a Counter Terrorism Unit in the West Midlands, said the lengthy sentences the men were given reflected the danger that they posed to the public.