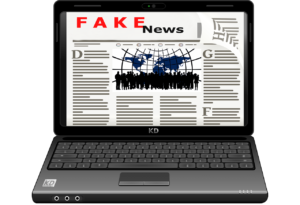 Facebook is releasing a new feature that could help its Canadian users identify fake news. Users will be able to get information about the news they read on the social networking site and determine whether it is real or fake.
How will the new feature work?
The tool lets users get information on who was behind content published on the social networking platform. Facebook says it is rolling out a new button on News Feeds that will help Canadian users  investigate the credibility of an article and determine whether the source of the article can be trusted or not.
The social media giant says that clicking on the button will lead to the Wikipedia entry of the poster, information on the number of times the article was shared on Facebook, where it was shared or was being shared, and a list of related articles.
Facebook has already tested the feature on news articles in the UK and the USA, and it is planning to expand the feature to all links posted on its platform instead of limiting it to links to news articles.
Facebook has been trying to show lawmakers that it is doing all it can to prevent the spread of fake news and to block bad behavior on its site; this clearly seems to be a part of those efforts.
Facebook to open "War Room" to safeguard elections from fake news
In its latest effort to protect elections from malfeasance on its network, Facebook has come up with its own War Room. The War Room will consist of 20 people, including data scientists, engineers and executives, who will monitor dashboards that show activity on the social network and how it changes in real time, noting irregularities, such as a hike in automated account creation within a particular geographic region, for example.
More than 300 people are already working at Facebook to protect elections from fake news and misinformation published on the site to influence voters. Samidh Chakrabarti, head of Facebook's elections and civic engagement team, said that Facebook sees the War Room as the "biggest company-wide reorientation" since the shift from desktops to mobile devices.
Facebook also announced that it has partnered with TurboVote to motivate its users to register to vote. Additionally, the company is planning to publish regular reports on trends that were observed through its political ad archive. India is having its elections soon– maybe that will be another venue in which we will get to see the effect of this latest of Facebook's efforts.